The Babysitter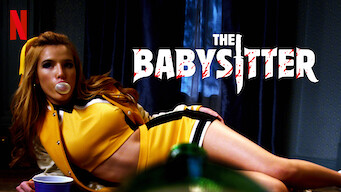 2017
MA 15+
85 min
When Cole stays up past his bedtime, he discovers that his hot babysitter is part of a satanic cult that will stop at nothing to keep him quiet.
Genres:Comedies, Horror Movies
Director:McG
Cast:Samara Weaving, Hana Mae Lee, Judah Lewis, Robbie Amell, Bella Thorne, Andrew Bachelor, Emily Alyn Lind, Leslie Bibb, Ken Marino
Production Country:United States
Click to Rate:
Added to Netflix:October 13, 2017
From the Daily Dot

Bad horror movies always have a chance to salvage something if the kills are creative, and a few of the offings here fit the bill. There are arterial sprays that would make Quentin Tarantino smile. But this campy flick from music video director McG about a babysitter with a fetish for human sacrifice can't get out of its own way: bad dialogue, bad acting, painfully self-aware jokes that play on horror clichés. It's like going trick-or-treating and coming home to find out your bag is mostly full of Tootsie Rolls.