The End of the F***ing World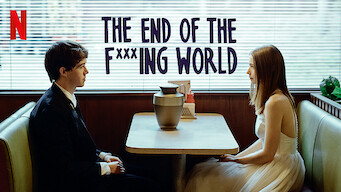 2019
MA 15+
2 Seasons
A budding teen psychopath and a rebel hungry for adventure embark on a star-crossed road trip in this darkly comic series based on a graphic novel.
Genres:British TV Shows, TV Comedies, TV Dramas
Cast:Jessica Barden, Alex Lawther, Steve Oram, Christine Bottomley, Navin Chowdhry, Wunmi Mosaku, Gemma Whelan, Jonathan Aris, Eileen Davies
Production Country:United Kingdom
Click to Rate:
New Season Added:November 5, 2019
From the Daily Dot

This Netflix original series presents us with a boy named James, who is pretty sure he's a psychopath. He's already murdered animals, and now he's ready to pivot to humans. But when he meets classmate Alyssa and decides she'll be his first victim, he gets more than he bargained for. The two embark on a road trip, which inadvertently becomes a death trip, and the series deftly balances dark comedy with genuine emotion.