Fate/EXTRA Last Encore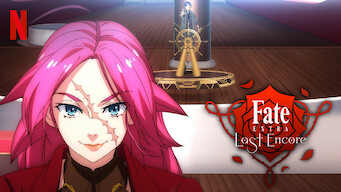 2018
MA 15+
2 Seasons
Hakuno Kishinami finds himself in the midst of a Holy Grail war with no memories of how he got there. Through his confusion, he must fight to survive.
Genres:Anime Series
Cast:Atsushi Abe, Sakura Tange, Kana Ueda, Hiroshi Kamiya, Noriko Shitaya, Kohsuke Toriumi, Urara Takano, Ai Nonaka, Kunihiko Yasui, Takahiro Mizushima
Production Country:Japan
Click to Rate:
New Season Added:October 30, 2018
From the Daily Dot

If you've been considering getting into the Fate franchise on Netflix and weren't sure where to begin, here's a tip: Don't start with Fate/Extra: Last Encore. This latest anime to come out of the long-running multimedia franchise is as newbie-unfriendly as they come. Although there is plenty of exposition about the features unique to Fate/Extra, such as the SE.RA.PH. system and Dead Faces, the script presumes the audience is familiar with the fundamentals of the Holy Grail War that has been the centerpiece of the franchise since Kinoko Nasu's original visual novel. And while Fate/Extra: Last Encore isn't a good starting place for newbies, with weak writing and characterization and a dour outlook, it isn't much fun for established fans either.