Hari Kondabolu: Warn Your Relatives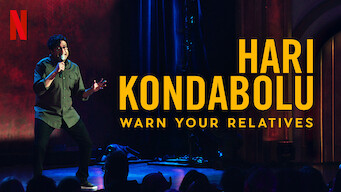 Hari Kondabolu breaks down identity politics, celebrity encounters, his mango obsession and more in an unpredictable stand-up comedy special.
Added to Netflix:
May 8, 2018
From the Daily Dot
Comedian Hari Kondabolu will tell you up front that his comedy "isn't for everyone." In his debut Netflix special, it's not so much a warning as a challenge, as he invites the audience to hear him out about race, representation, and how South Asian people love mangoes. Though some of his bits and stories meander or don't offer much pay off, one story about being heckled by Tracy Morgan offers some insight about his own comedy.
---
---
---
---