The World Is Yours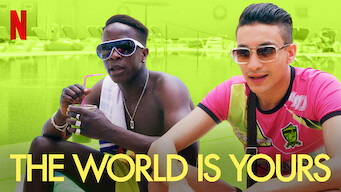 2018
M
101 min
To escape his life of crime, a Paris drug dealer takes on one last job involving Spain, unhinged gangsters, his longtime crush and his scheming mother.
Genres:Action & Adventure, Comedies, Crime Movies
Director:Romain Gavras
Cast:Isabelle Adjani, Karim Leklou, François Damiens, Vincent Cassel, Oulaya Amamra
Production Country:France
Click to Rate:
Added to Netflix:November 30, 2018
From the Daily Dot

Fast-rising director Romain Gavras takes a giant leap forward in the feature film arena with his ballsy, Cannes-approved pulp/crime comedy The World Is Yours. The French-language film demonstrates newfound depth and nuance from the Greek-French auteur – famous for his video work with agro-political pop star M.I.A. – who at last makes good on the promise exhibited in 2010's stylish but woefully undercooked Our Day Will Come.