Norm Macdonald: Hitler's Dog, Gossip & Trickery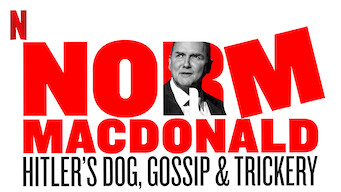 2017
MA 15+
61 min
In this new stand-up special, Norm Macdonald delivers sly, deadpan observations from an older – and perhaps even wiser – point of view.
Genres:Stand-Up Comedy
Director:Liz Plonka
Cast:Norm MacDonald
Production Country:United States
Click to Rate:
Added to Netflix:May 9, 2017
From the Daily Dot

Hitler, suicide, the moon landing, dogs: Macdonald's special has it all. The comedian is a master of the blunt-force punchline and his material can be divisive, but here we see Macdonald older and more introspective. "I'm trying to be a better person," he says towards the end; then he uses that line to launch into a joke about murdering his family. The journey from A to B is part of the thrill.